Recipe
Do you need to come up with a dessert fast? A bake sale, baby shower, guests coming for the weekend, or a severe, chocolate craving? Then this recipe is for you. These are no-fail, dense, fudgy, chewy brownies with a frosting that is poured on and becomes like a thin layer of fudge; AND to make things easy, they come from a box. You start with 2 boxes of brownie mix but add the perfect ingredients to make them taste like you started from scratch. No one will ever know that you cheated… just a little bit.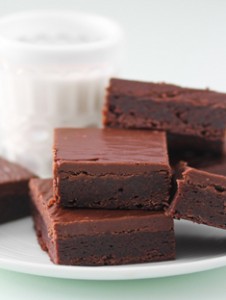 Cheater Brownies
• 2 (20 oz each) boxes of brownie mix
• 12 tbsp butter, melted
• 1/2 cup buttermilk
• 2 large eggs
• 2 teaspoons vanilla
Frosting:
• 8 tbsps butter
• 2 tbsps unsweetened cocoa powder
• 1/3 cup milk
• 3 cups powdered sugar
Preheat oven to 325. Line a 9×13 metal baking pan with foil — lightly spray the bottom with baking spray. Put the brownie mix, butter, buttermilk, eggs and vanilla in a large bowl. Mix with a wooden spoon until combined. Batter will be very thick. Spread in prepared pan evenly and bake for about 45 minutes, until center is set, but still a bit soft. Let brownies cool for about 20 minutes. Prepare frosting: In a medium saucepan over medium-low heat, melt your butter. Once the butter is melted, add the cocoa powder and milk, stirring until the mixture becomes thick and is JUST starting to boil. Remove from heat and whisk in powdered sugar. Pour over brownies, spreading quickly before it sets. Let brownies cool to room temperature. Then refrigerate them (for easier cutting) and once chilled, remove foil from pan, peel off of brownies, and cut into squares.