Recipe
I've made these 3 times since I discovered the recipe online, and they have been approved by kids and adults alike. They are easy to make, and take Rice Krispie squares to a whole different level. Another great recipe for bake sales, kid's lunches or just because you need a sweet treat.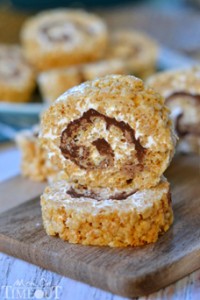 S'more Rice Krispie Pinwheels
• 10 oz miniature marshmallows
• ¼ cup salted butter
• 5 cups Rice Krispies cereal
• ¾ cup graham cracker crumbs
• 1 jar of marshmallow creme
• 1 1/2 cups miniature semi-sweet chocolate chips
Melt the marshmallows and butter in the microwave in a medium bowl for 1½ minutes or until completely melted, stirring halfway through. While the marshmallows are melting, mix the Rice Krispies and the graham cracker crumbs together in a large bowl. Stir the melted marshmallow mixture into the Rice Krispies. Line a 10×15 cookie sheet with parchment paper and spray with non-stick spray. Press the Rice Krispies in an even layer to fill pan or to make a large ½ inch rectangle. Spread the marshmallow creme evenly over the cereal layer and top with the mini chocolate chips. Place the pan in a 200 degree oven for 2 minutes, just long enough to start melting the chocolate chips. Remove from the oven and spread the chocolate out in an even layer over the marshmallow creme. Using the parchment paper, carefully roll the Rice Krispies treat into a tight log. Refrigerate for one hour and slice into pinwheels once the chocolate and marshmallow are set.
Tip: Spray your offset spatula with non-stick spray before pressing the Rice Krispies onto the parchment and again when you spread the marshmallow creme on top of the Rice Krispies or you can use a buttered piece of parchment paper. This will make it easier to spread the Rice Krispies without becoming a sticky mess.