Recipe
Don't you love when you find and try a new recipe and it's a winner!? I made this casserole last week and it was a hit. I know it's a success when I don't have any leftovers. It is a super easy version of Chicken Pot Pie and quick to put together; using crescent rolls instead of pastry. You can use a rotisserie cooked chicken to make preparation even quicker. I seasoned and put 3 boneless, skinless chicken breasts in the oven and cooked them first.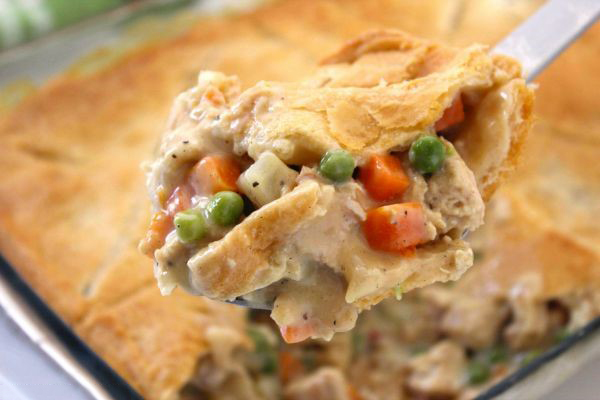 Chicken Pot Pie Casserole
• 1 lb Chicken Breast
• 12 oz Frozen Peas and Carrots, thawed
• 2 cup Frozen Hashbrowns, thawed
• 1 Onion diced
• 2 cans of Cream of Chicken Condensed Soup
• 1 cup Water
• 2 cans Refrigerated Crescent Rolls.
• 1/2 tsp Poultry Seasoning
• Salt and Pepper to taste.
Cook chicken breasts until cooked through. Allow to cool. Sauté onions until transparent and set aside. Dice chicken into 1/2″ cubes. Preheat oven to 350.
Grease a 11×13″ baking dish.
Unroll 1 can of crescent rolls and pinch perforations to seal into a sheet. Press into bottom and up sides of prepared dish. Don't worry if sides do not go all the way up. Bake for 20 minutes or until crust is light brown. Allow to cool.
In a large skillet, combine chicken cubes, diced onion, water, potatoes and peas and carrots. Stir and cook over medium heat until ingredients are warm (5-10 minutes).
Add soup and poultry seasoning and continue heating for another 5 minutes. If sauce looks too thick, slowly add a little more water until desired consistency is reached. Pour chicken mixture over baked crust and spread evenly.
Unroll other can of crescent rolls and pinch perforations to seal into a sheet. Place over top of chicken mixture and press into sides of dish. Bake for 25 minutes or until
top is golden brown.