Recipe
Cilantro is one of those herbs that people either hate or love. Apparently, it all comes down to genetics on whether you taste a warm, spicy flavour or soap! I am one of those people who loves cilantro and use it whenever I can. The following recipe is great served with Mexican dishes or just as a side at any time.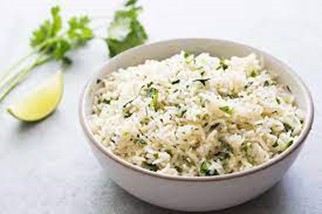 Cilantro Lime Rice
• 1 cup long grain white rice
• 2 cups unsalted chicken broth
• 1/2 teaspoon salt
• 1/4 teaspoon ground cumin
• 2 Tablespoons fresh lime juice
• 1 teaspoon lime zest
• 2 Tablespoons chopped cilantro
Combine the rice, chicken broth, salt and ground cumin in a large saucepan or skillet. Bring to a boil over medium-high heat. Cover with lid then reduce heat to medium-low. Let simmer 20 minutes. Remove from heat, but keep lid on. Let stand with lid on for 10 minutes. Remove lid and add in lime juice, zest and chopped cilantro. Fluff with a fork and serve warm.