Recipe
This is another recipe that was recommended to me. If you are a ranch fan, you will love these. They are a tex-mex version of enchiladas. Easy to prepare and a simply delicious meal. If you don't want to prepare the chicken in a crockpot, you can bake it or boil it, then shred and add the taco seasoning and chicken broth. Serve with Mexican or Cilantro Lime Rice for a complete meal.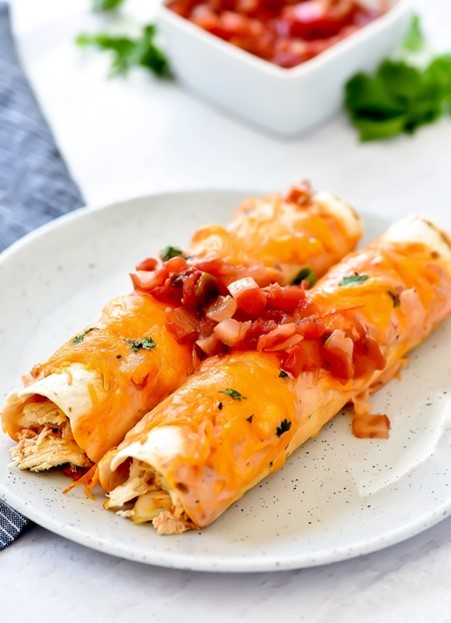 Ranch Chicken Enchiladas
• 3 to 4 medium boneless skinless chicken breasts
• 1/2 cup chicken broth
• 1 packet (1 ounce) taco seasoning
• 3/4 cup salsa
• 3/4 cup prepared Ranch dressing
• 1 to 2 cups shredded cheddar cheese
• 8 medium flour tortillas
Place ½ cup chicken broth in a crockpot, add the chicken breasts and taco seasoning. Cover and cook on low heat for 3 hours or until chicken is fully cooked. Remove chicken from crockpot and shred. Preheat oven to 350 degrees. Spray a 9 x 13 baking dish with cooking spray. Stir the salsa and ranch dressing together until combined. Spread a thin layer of salsa-ranch mixture on the bottom of the baking dish. Take one tortilla and place 1/3 cup of chicken down the center. Top with 1 tbsp of cheese and 2 tbsps on the salsa-ranch mixture. Roll up and place in the baking dish. Repeat with remaining tortillas. Pour the remaining salsa-ranch mixture over enchiladas and then sprinkle evenly with remaining cheddar cheese. Bake for 25-30 minutes, or until cheese is melted and enchiladas are heated through. Drizzle tops with more ranch dressing, if desired and serve.