Recipe
If you want all the flavour of coconut cream pie but don't want to make pastry, then this a delicious alternative. It does take some time to make the different layers, but it's so worth it. The original recipe called for homemade whipped cream on top, which you can do, but this is my lazy version.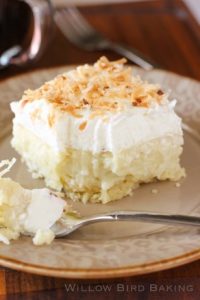 Coconut Cream Pie Bars
Crust
• 1 cup butter
• 2 cups flour
• ½ cup icing sugar
Coconut Cream Filling
• 2 cans of coconut milk
• 500 ml of half and half cream
• 4 eggs
• 1 ½ cups granulated sugar
• ¾ cup cornstarch
• ½ tsp salt
• 1 ½ cup flaked coconut
• 1 tsp coconut extract
• 1 tsp vanilla extract
TOPPING
• 1 large container of Cool Whip
• ¾ – 1 cup coconut, for toasting
Preheat oven to 350 degrees (325 degrees for a glass baking dish). Make the shortbread crust by mixing the flour and icing sugar together in a bowl. Cut in the butter until it becomes crumbly and then press into a 9 x 13 pan. Bake 18-25 minutes or until light brown. Let cool. At the same time as you're cooking the crust; spread the ¾ -1 cup of coconut out on a baking sheet and bake 3- 6 minutes, stirring until the coconut is golden brown. Spread the coconut out on a plate to cool. Make the cream filling by heating the coconut milk and cream in a large saucepan on low. Whisk eggs with sugar, cornstarch and salt. Add to the saucepan. Turn heat up to low/medium and whisk constantly until it's thick and bubbling. This could take 15-30 minutes. When thickened, add the coconut and vanilla extract and untoasted coconut. Pour over the crust and let cool on the counter. Put into fridge to firm up. When filling has set, spread the Cool Whip over the top and sprinkle with toasted coconut.