Recipe
I saw the following recipe online last night and thought to myself, "that looks yummy and easy to make; it would be a good recipe for my column". This morning I woke up and thought, "maybe I should make it first." I have lead readers astray a few times over the years, so I do try and be cautious when suggesting a recipe. I looked; I had all the ingredients, and so I began. I was doing great until the canned milk I pulled out of my fridge had a green layer of mold on the top. Fortunately for me, my parents live very close by, so in my pajama pants and sporting my stylish bed head, I walked over and borrowed some canned milk. As I sit and type this, I am enjoying a piece of moist pineapple cake with a delicious caramel topping (that reminds me of magic bars) and a cup of coffee. It was worth the walk this morning.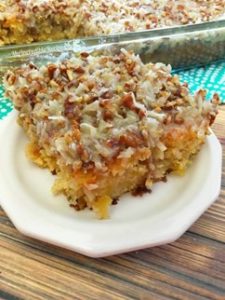 Tornado Cake
Cake:
2 cups all purpose flour
1 teaspoons baking soda
2 cups granulated sugar
2 large eggs
1 teaspoon vanilla extract
20oz can crushed pineapple
Topping:
1/2 cup salted butter
1/2 teaspoon vanilla extract
2/3 cup evaporated milk
1 cup granulated sugar
1 cup chopped pecans
1 cup sweetened coconut flakes
Preheat your oven to 350 degrees and grease a 9×13″ baking pan with butter.
In a large mixing bowl, mix together your flour, sugar, baking soda, eggs, vanilla, and crushed pineapple. Pour into your baking pan and bake for 25-30 minutes or until golden brown. (Mine was ready early, so check it) Poke several holes in the cake with the handle of a wooden spoon. In a medium sized saucepan, heat your butter, sugar, evaporated milk, and vanilla until it reaches a boil. Mix in your pecans and coconut and continue cooking for about 5 minutes on medium heat, stirring constantly. (it will bubble and spit, so be careful) Pour your topping evenly over your cake, let cool for a couple minutes, slice and enjoy.