Recipe
How have I not known about these delicious squares? Our family have always been big Rice Krispie square fans and have made the "fancier" version with peanut butter in them, but who knew you could add another favourite? Oreo Cookies! Soft and gooey with yummy chunks of Oreos throughout is sure to please the young and the old.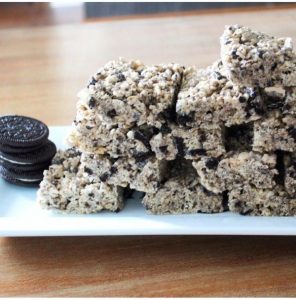 Cookies & Cream Rice Krispie Treats
• 1/4 cup of butter
• 16 oz. bag of marshmallows
• 5 1/2 cups of rice krispies
• 1 pkg. of original Oreo cookies, crushed
Melt the marshmallows and butter in a large microwave-safe bowl for 2 minutes. Remove the bowl from the microwave and stir the marshmallows. If the butter is not completely melted, return to the microwave for another 30 seconds. Remove the bowl from the microwave and stir to combine. (This step can also be done in a pot on the stove). Fold the Rice Krispies and Oreos into the marshmallow mixture until well combined. Spray a 9 x 13 pan with baking spray. Evenly spread the Rice Krispie mixture into the pan with a spoon dipped in water or sprayed with baking spray. Allow to cool for 30 minutes before cutting and serving.