Recipe
It's harvest time, and I'm sad to say I lost all of my cabbages in the garden to some kind of pest but I know others have had better luck. I got this recipe years ago from a friend. It's a hearty soup that has all the flavour of cabbage rolls but with a lot less work. It's a great way to use cabbage if you have some in the garden or if you've picked up a fresh head from the store. I sometimes add diced celery and chopped green beans if I have some in the garden.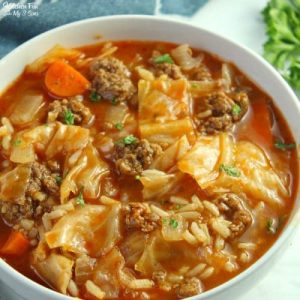 Cabbage Roll Soup
• 2 tsp. vegetable oil
• 1 lb. lean ground beef or lb stew beef, cut into
1-inch chunks
• salt and pepper
• 1 medium yellow onion diced finely
• 2 cloves garlic minced
• 4 cups chopped green cabbage
• 2 medium carrots quartered and sliced
• 4 cups low-sodium beef broth
• 1 680 ml can tomato sauce
• 1/2 cup white rice, uncooked
• 1 bay leaf
• 3 tbsp. light brown sugar
• 2 tbsp. fresh chopped parsley
In a dutch oven or large soup pot, heat oil over medium-high heat and add ground beef or stew beef. Season ground beef with salt and pepper as desired and cook until browned. Add diced onion and minced garlic and cook for another 2-3 minutes, until onions are tender. Add in chopped cabbage, carrots, tomato sauce, beef broth, white rice, bay leaf, and brown sugar and stir to combine. Bring soup to a simmer and let cook for about 25 minutes, until rice is tender. Take out the bay leaf and sprinkle with chopped parsley.