Recipe
These potatoes are extra crispy on the outside and fluffy on the inside. They taste like French fries except they're buttery. You can make these with small or medium potatoes. Small ones will come out crisper (like finger food that you can pick up), whereas larger ones have the same crispiness on the surface but you get a fluffier potato on the inside. These will be your new favourite way to make potatoes. Make as many as you can fit on the tray once they are smashed; as long as they aren't touching each other.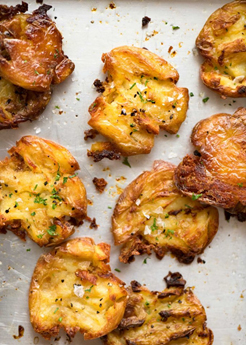 Crispy Smashed Potatoes
Servings:
12 (depending on size of potato)
• 1.4 lb small potatoes
• 3 tbsp unsalted butter , melted
• 1 tbsp olive oil
• Salt and pepper
• Finely chopped parsley , optional garnish
1. Bring a pot of water to boil. Cook potatoes until soft – small
ones should take around 20 to 25 minutes, large ones might
take 30 minutes. It's ok if the skin splits. They also can be
steamed or microwaved.
2. Preheat oven to 350 degrees.
3. Drain the potatoes and let them dry in the colander for 5
minutes or so.
4. Place on the tray then use a large fork or potato masher
to squish them, keeping them in one piece. The thinner, the
crispier.
5. Leave on the tray to steam dry for 5 minutes or so, this
makes them crispier.
6. Drizzle with butter, then just a bit of olive oil (about 1/4 tsp
on each). Sprinkle with salt and pepper.
7. Bake for 40 minutes or until deep golden and crispy. Do
not flip!
8. Serve hot, sprinkled with parsley if desired.