Recipe
Who doesn't love dill pickles? My girlfriend makes this yummy Dill Pickle Pasta Salad and it is one of my favourite pasta salads ever. In this creamy pasta salad, dill pickles play a starring role and add tons of flavour and crunch! This recipe is even better when it's made ahead of time, making it the perfect potluck dish or to pack for your lunch.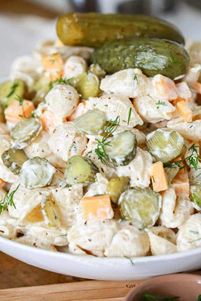 Dill Pickle Pasta Salad
• 1/2 lb dry shell pasta about 3 cups
• 3/4 cup diced dill pickles (baby dills give the best crunch)
• 2/3 cup cheddar cheese diced
• 3 tablespoons finely diced white onion
(red onion, green onions or chives)
• 2 tablespoons fresh dill
• 1/2 cup pickle juice
DRESSING
• 2/3 cup mayonnaise
• 1/3 cup sour cream
• 1/8 tsp cayenne pepper
• 4 tablespoons pickle juice
• salt & pepper to taste
1. Boil pasta al dente according to
package directions. Run under
cold water to stop cooking.
2. Toss cold pasta with about 1/2 cup of pickle juice and set
aside for about 5 minutes. Drain & discard pickle juice.
3. Combine all dressing ingredients in a small bowl and
mix well.
4. Toss all ingredients in a large bowl. Refrigerate at least
1 hour before serving.