Recipe
A crock pot can be your best friend not only when your days are busy but also when the summer temperatures make it too hot to turn on your oven. This recipe can be made with chicken breasts but thighs won't dry out like breast meat is prone to do. Serve over rice, sprinkled with chopped chives for an impressive yet simple delicious dinner.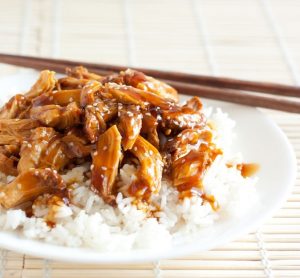 CROCK POT TERIYAKI CHICKEN
• 12 boneless skinless chicken thighs (about 3 pounds)
• 3/4 cup sugar
• 3/4 cup soy sauce
• 6 tablespoons cider vinegar
• 3/4 teaspoon ground ginger
• 3/4 teaspoon minced garlic
• 1/4 teaspoon pepper
• 4 1/2 teaspoons cornstarch
• 4 1/2 teaspoons cold water
• Hot cooked long grain rice
Place chicken in a 4 qt. slow cooker. In a large bowl, combine the sugar, soy sauce, cider vinegar, ginger, garlic and pepper. Pour over chicken. Cover and cook on low for 4 to 5 hours or until chicken is tender. Remove chicken to a serving platter; keep warm. Skim fat from cooking liquid. Place liquid in a saucepan and bring to a boil. Combine cornstarch and water until smooth. Gradually stir into liquid and stir until sauce is thickened. Serve with chicken and rice.