Recipe
I tried this recipe on the weekend and they seriously were some of the best cupcakes I've ever made; they were a huge hit. By simply adding a few extra ingredients to a boxed cake mix you get a flavourful cupcake with a moist, fluffy texture. The cupcakes come out with a flat top and don't rise into a mound like most cupcakes do, which gives you a flat base for piping frosting on. They are perfect for topping with a buttercream frosting for special occasions, hence the name "White Wedding" cupcakes. This recipe can also be made into a cake(s). You can frost these with a frosting of your choice, but I will include the recipe for buttercream frosting which works well if you are doing some fancy decorating.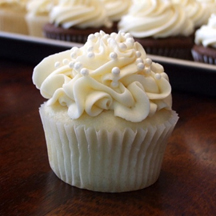 White Wedding Cupcakes.
• 1 box white cake mix
• 1 cup all-purpose flour
• 1 cup granulated white sugar
• 3/4 teaspoon salt
• 1 1/3 cups water
• 2 tablespoons vegetable or canola oil
• 1 teaspoon vanilla extract
• 1 cup sour cream
• 4 large egg whites
Preheat oven to 325°F. Place cupcake liners in cupcake pans (you'll need approx. 24- 36). In a large bowl, whisk together cake mix, flour, sugar and salt. Add remaining ingredients and beat with hand mixer for 2 minutes, or until well blended. Use an ice cream scoop to fill prepared cupcake tins- fill about 3/4 full. Bake about 18 minutes, or until toothpick inserted in center comes out clean.
Buttercream Frosting
• 3 cups powdered sugar
• 1 cup butter, at room temperature
• 1 teaspoon vanilla extract
(use clear extract, if you really want it white)
• 1 to 2 tablespoons whipping or half and half cream
In a large bowl, with a hand or stand mixer, cream together sugar and butter on low speed. Mix until well blended. Increase speed to medium and beat for another 3 minutes. Add vanilla and 1 tablespoon of cream and continue to beat on medium speed for 1 minute more. Add more cream if needed for desired spreading/piping consistency. Scoop into a piping bag and pipe decoratively onto cupcakes, or spread onto cupcakes as desired.