Recipe
I think it's safe to say that the worst of the cold weather is finally behind us and it's time to welcome the warmer weather. For me, the warmer temperatures mean less comfort food meals and more salads. The following salad is full of crunchy, nutritious vegetables tossed in a delicious, homemade, peanut dressing with a distinctive Asian –style flavour to it. I'll admit I use to be hesitant to make dressings and sauces with peanut butter but I've learned that it adds a delicious nutty flavour and creaminess that I love. This salad can be served as a side dish or topped with grilled or rotisserie chicken as a meal.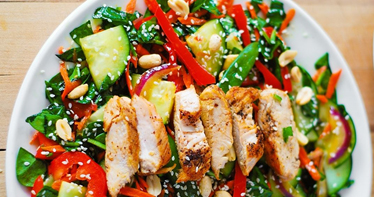 Crunchy Asian Salad with Chicken and Sesame Peanut Dressing
Peanut salad dressing:
• 1/4 cup rice wine vinegar
• 1 teaspoon chopped fresh ginger or 1/2 teaspoon powdered ginger
• 2 tablespoons soy sauce
• 1 tablespoon honey (or more, if you like it sweeter)
• 3 tablespoons sesame oil
• 1/4 cup vegetable oil
• 3 tablespoons creamy peanut butter
• 2 tablespoons sesame seeds, toasted
Salad:
• 6 cups baby spinach leaves or other greens, washed, and dried
• 1 large carrot, shredded
• 1 red bell pepper, thinly sliced
• 1/4 red onion, thinly sliced
• 1/2 pound sugar snap peas
• 1/2 large cucumber or 1 small cucumber, thinly sliced
• 1/2 cup roasted peanuts, chopped in half
• 1 tablespoon sesame seeds toasted
• 2 cups shredded rotisserie chicken or grilled chicken, sliced
To make salad dressing:
In a medium bowl, combine and whisk together all dressing ingredients, except for 1 tablespoon of sesame seeds.
Salad:
Bring a pot of water to a boil, add the sugar snap peas, and cook for about 5 minutes, until peas are crisp tender. Drain, rinse under very cold water (to stop cooking), drain again and set aside. Combine all salad ingredients in a large bowl. Pour the dressing over the salad, just enough to coat (you don't have to use all of the dressing, unless you want to). Sprinkle the salad with the remaining tablespoon of toasted sesame seeds. Serve the salad in the individual serving bowls and top with the sliced chicken.