Recipe
This Rice Pilaf recipe is perfect with anything from chicken to fish and makes a great change from plain white rice. It's quick, easy, full of flavour, adaptable, and so much better than packaged rice. It's a perfect way to use up leftovers; you can add vegetables or meat to make it a one pot meal. You can also turn it into a vegetarian dish by using vegetable stock. I found the original recipe too salty, so I have cut back the amount of salt used. Season to your taste.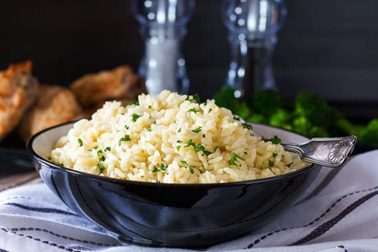 Rice Pilaf
• 2 tablespoons unsalted butter
• ½ small onion chopped
• 1/2 teaspoon salt
• Freshly ground black pepper
• 1 bay leaf
• 1 tbsp dried parsley
• 1 cup long grain rice ( Uncle Ben's never fails me)
• 2 cups chicken stock
Melt the butter with the onion in a medium saucepan over medium heat. Season with the salt & pepper and cook until the onions are soft, about 5 minutes. Add the rice and stir until coated with the butter. Increase the heat to medium-high. Stir in chicken stock, bay leaf and parsley. Raise the heat to medium-high heat and bring to a boil. As soon as it reaches a boil, lower the heat to a low heat, cover and cook until all the stock has been absorbed by the rice and the rice is tender, about 15 to 18 minutes. Remove from the heat and let set for 5 minutes. Discard the bay leaf. Fluff the rice and serve.