Recipe
This is the perfect time to make this salad while the flavourful, seasonal garden tomatoes, cucumbers and fresh herbs are abundant in people's gardens, at the farmer's market or at the grocery stores. It's a simple but delicious salad that is wonderful served with dinner or by itself as a nutritious lunch.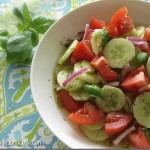 Cucumber Tomato Salad
For the salad:
• Approximately 3 cups peeled & sliced cucumbers
• 3 small tomatoes, sliced into chunks
• ⅓ cup chopped red onion
• ¼ cup chopped fresh basil
For the dressing:
• ¼ cup extra virgin olive oil
• ¾ cup apple cider vinegar
• ½ tablespoon red wine vinegar
• ½ teaspoon dill weed
• 1 teaspoon sugar
• ¼ teaspoon salt (or to taste)
• ¼ teaspoon pepper (or to taste
Place salad ingredients in large bowl and toss. Mix dressing ingredients in small bowl; stir to combine well & drizzle over salad.