Recipe
Fresh, juicy peaches have arrived in the grocery store. They are one of my favourite fruits and I love to simply peel them, slice them, and eat them with a bit of sugar and a drizzle of cream and when I'm feeling really ambitious I like to make a couple of batches of peach jam for the winter. The following recipe caught my eye because I love fruit crisps, and due to dietary restrictions I am unable to eat oats which most crisps call for in the topping. This one uses just flour and combined with fresh, seasonal peaches, it sounds like a winner to me.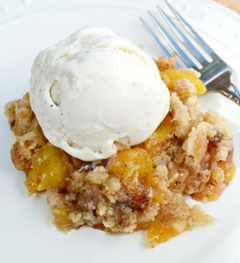 Fresh Peach Crisp
For the Topping
• 1 cup all-purpose flour
• 1 cup sugar
• 1/2 teaspoon cinnamon
• 1/2 cup butter
For the Filling
• 8 to 10 fresh peaches
• 2 tablespoons brown sugar
• 1 tablespoon granulated sugar
• 2 teaspoons cinnamon
• 1/4 teaspoon sea salt
• 1 tablespoon butter
For the Topping
In a medium bowl, combine the flour, sugar and cinnamon, and cut in the butter, with
a knife, until crumbly. Set aside.
For the Filling
Preheat oven to 350 degrees. Wash and peel the peaches, and slice thin. Arrange peaches in a 13 x 9-inch greased baking dish. Sprinkle brown sugar, sugar, cinnamon and salt over the peaches, and mix until well
coated. Dot the butter all over the filling, and add the topping mixture. Bake at 350 degrees for about 50 minutes, or until crust is slightly brown and filling mixture is bubbling.