Recipe
I had this delicious rice at my in-laws house the other night and loved it, so I asked my mother in law for the recipe. The fruit adds just enough sweetness to the dish and the nuts add a slight crunch. It's a great side dish for pork, ham or chicken. The dry ingredients can be mixed ahead for convenience and even placed in a Zip-lock bag with cooking instructions for gift giving.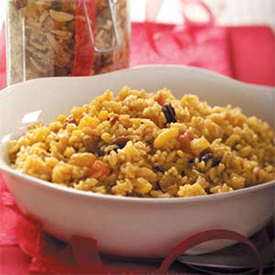 Curried Rice
• 1 cup long grain rice (basmati is good)
• 1 tsp curry powder
• 1 tsp beef bouillon
• ¾ cup mixed dried fruit, chopped
• 1 tbsp raisins
• 1 tbsp dried cranberries
• ¼ cup slivered almonds
• 1 tbsp dried onion flakes
Add to the dry ingredients
• 2 ½ cups water
• 2 tbsp butter
• ½ tsp salt
Bring all ingredients to boil in a medium size saucepan and simmer for 20 minutes or until liquid is absorbed and rice is cooked.
*This recipe is good for gift giving. Place all dry ingredients in a Ziplock baggie and attach instructions for cooking. Makes enough for 6-8 people.