Recipe
These are crazy delicious, simple to put together and perfect for Valentine's Day. Pick up the ingredients today, and serve them for dessert tonight. Of course they can be made anytime of the year, no special occasion is required.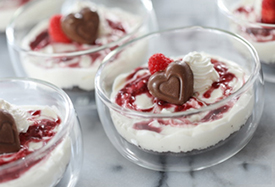 NO-BAKE RASPBERRY CHEESECAKE BOWLS
Makes 6 single serving cheesecakes
Crust:
• 1 cup chocolate crumbs or graham wafer crumbs
• 1/8 cup sugar
• 4 tablespoons unsalted butter, melted
Cheesecake:
• 2 blocks (16 ounces total)
cream cheese, softened
• 3/4 cup sugar
• 1/4 cup whole milk
• 1 teaspoon vanilla extract
• 1/2 teaspoon salt
• 3/4 cup heavy whipping cream
• 1/4 cup raspberry jam
• Fresh raspberries, whipping cream, and heart chocolates to garnish
In a medium bowl, stir together the crumbs with the sugar and melted butter until combined. Divide the mixture into six small dishes (about 4 inches in diameter and 2 inches deep). Press into an even layer with your fingers or a spatula. Place in the refrigerator while preparing the cheesecake. In a stand mixer fitted with the paddle attachment or electric mixer, beat the cream cheese on high until smooth and creamy. Add the sugar, milk, vanilla, and salt. Beat again until smooth and combined. Transfer the cream cheese mixture into a large bowl and set aside. In a stand mixer fitted with the whisk or with an electric mixer, beat the heavy whipping cream on low for about 45 seconds. Increase the speed to medium and continue beating for another 45 seconds. Increase the speed to high and beat until stiff peaks form. With a spatula, stir about one-third of the whipped cream into the cream cheese mixture and fold it in until completely combined. Add the remaining whipped cream and fold until fully combined. Divide the cream cheese mixture evenly over the six prepared crusts. Smooth the top with a spatula. Finally, in a microwave safe bowl, add the jam and 1 tablespoon of water. Heat for about 30 seconds to make the jam liquid. (Heat for an additional 15 seconds, if needed). Stir to combine. Allow the jam to cool slightly, and then drop small amounts of jam on top of each cheesecake. Use a skewer or toothpick to drag the jam through the top of the cheesecake to make swirls. Refrigerate the cheesecake about 1 hour until firm or up to 1 day. (Cover with plastic wrap if refrigerating for longer than 1 hour.) Garnish with fresh raspberries, whipped cream or chocolate hearts.