Recipe
Cannoli's are an Italian tube-shaped pastry filled with a sweet, creamy filling usually containing ricotta cheese. Many people would agree that the filling is the best part of the dessert. This recipe allows you to indulge in just the filling. My friend made this dip last weekend, and we couldn't get enough of it. I promise you; you can't go wrong bringing this to a party or serving it at your next gathering.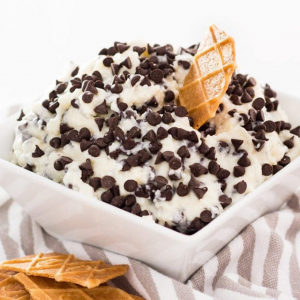 Easy Cannoli Dip
• 1 cup whole milk ricotta cheese
• 8 oz cream cheese
• 1 cup powdered sugar
• 1 tsp vanilla
• 2/3 cup mini chocolate chips
Place the ricotta, cream cheese, and powdered sugar into a mixing bowl. Beat the mixture with an electric mixer on medium-high speed until smooth. (3-5 minutes.) Add the vanilla to the mixture, whipping for another 30 seconds. Before proceeding, taste the dip. If you would like the dip to be sweeter, add in more powdered sugar, about 2 tablespoons at a time (up to 8 tablespoons). Add the mini chocolate chips to the mixture and stir with a spatula. Be sure to keep some of the mini chocolate chips for garnishing when serving. Serve the dip immediately along with broken waffle cones, small chocolate chip cookies, butter cookies, graham crackers, strawberries, etc. On the off chance there is any dip left over, store it in a container with a lid and place in the refrigerator.