Recipe
Everyone has a chocolate chip cookie recipe; I actually have many. But this recipe promised that these were the "best". So, I tried it, and they are pretty darn good; my mom even asked for the recipe. The middle of the cookie is nice and soft, and the outer edge has a little crispiness. Of course, with any cookie recipe, baking time can be less or more depending on how crispy or soft you like your cookies.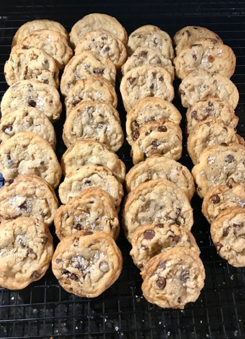 Best Chocolate Chip Cookies
• 2 cups all-purpose flour
• 1 teaspoon baking soda
• ½ teaspoon salt
• 1 cup butter barely melted. (You want to melt it in the
microwave, but not over melt it, leave some small, solid
pieces in in), and be sure to let it cool a bit before putting
in with the other ingredients.
• ¾ cup light brown sugar, packed
• ⅔ cup granulated sugar
• 2 teaspoons vanilla extract
• 1 teaspoon apple cider vinegar
• 1 large egg
• 2 cups semisweet chocolate chips
Preheat oven to 350 degrees.
Line a baking sheet with parchment paper.
In a medium bowl mix together the flour, baking soda and the salt: Set aside.
In a large bowl beat together the butter, sugars, vanilla extract and the vinegar until smooth. Beat in the egg just until combined. Mix the flour mixture into the wet mixture just until combined. Stir in the chips. Using a large cookie scoop (about 2 rounded tablespoons) drop about 3 inches apart onto cookie sheet. Bake for 8 to 10 minutes, they will look light brown around the edges and will look underdone in the center. Allow to sit on the sheet for 10 minutes before moving to a rack to cool.