Recipe
This fruit salad is perfect for parties. It's easy to make, refreshing, and everyone will appreciate a healthy option at the dessert table. The orange-lemon syrup is sweetened with honey and glazes the fruit to keep it looking and tasting fresh longer. Your fruit won't brown even after a few hours at room temperature. You can prepare all the fruit except the apples and bananas the night before, and then just add them before serving. This recipe is party-sized and can easily be cut in half for a smaller crowd.
Fruit Salad with Orange Poppy Seed Syrup
Serving: 10-12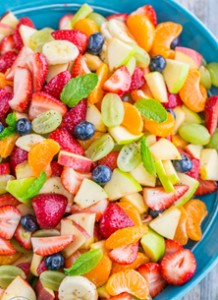 Fruit Salad Ingredients:
• 2 lbs fresh strawberries, hulled and halved or quartered if large
• 1 lb fresh grapes (any colour), halved
• 6 clementines, peeled well and separated into sections
• 1 cup fresh blueberries
• 1 to 2 apples, cored, cut into sixths and sliced into ¼" thick pieces
• 1 banana, sliced
• Other fruit options that work well in this salad: pineapple, kiwi, raspberries, blackberries
Orange Lemon Syrup:
• 4 Tbsp liquid honey
• Juice of 1 large lemon (about ¼ cup)
• Juice of 1 medium orange (about ¼ cup)
• Heaping ½ tsp poppy seeds
• Optional garnish: mint leaves
Squeeze juice of 1 lemon and 1 orange. Stir together syrup ingredients, mixing until honey is completely dissolved into the syrup. Rinse and slice fruit in the order that it is listed. Don't slice your apples or bananas until you're ready to add the syrup since the lemon in the syrup will keep them from browning. Drizzle syrup over the fruit and toss to evenly coat the fruit with syrup.