Recipe
This is a quick, easy, and delicious dish. I made it for dinner the other night and it was much easier than the chicken parmesan I usually make. The chicken breasts are rubbed with seasonings and pan fried in an oven -proof skillet until golden brown. They are then popped in the oven to finish cooking. If you don't have an oven proof skillet you can transfer the browned chicken into a casserole dish, add the cooked garlic, seasoned sauce, and cheese, then finish cooking it in the oven in the casserole dish.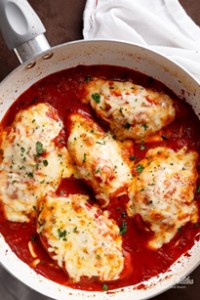 Mozzarella Chicken In Tomato Sauce
Serves: 4
• 1 teaspoon dried basil leaves
• 1 teaspoon dried parsley leaves
• ½ teaspoon ground oregano
• Salt and freshly ground black pepper
• 1 tablespoon olive oil
• 2 skinless and boneless chicken breasts, halved to make 4 fillets
• 1 teaspoon minced garlic
• 1 cup your favourite marinara tomato sauce
• 1-2 teaspoons Italian seasoning (adjust to your tastes)
• ½ cup shredded mozzarella
Combine the herbs in a shallow bowl with salt and pepper and oil. Coat both sides of each chicken fillet with the seasoned oil. Heat a large heavy oven-proof skillet over high heat. Add the fillets and pan fry on each side until golden (about 3 minutes on each side). Add the garlic to the pan and allow it to fry until fragrant (about 30 seconds). Spoon the marinara sauce over and around the chicken. Add the Italian seasonings into the sauce and stir them through. Sprinkle 2 tablespoons of the mozzarella over each chicken fillet; transfer to the oven and broil until the cheese has melted and the chicken is cooked through (about 3 to 5 minutes).
Garnish with freshly chopped parmesan cheese and serve over noodles, rice, pasta, steamed vegetables, or with a salad.