Recipe
We had these tasty appetizers on New Year's Eve and I almost ate the whole platter by myself. They are easy to prepare, have a delicious flavour and are impressive when served! I think they would also be wonderful served at brunch or for a lunch. You can prepare them ahead, bring them to room temperature and cook when needed. The recipe calls for mild cheddar cheese, but we also used sliced smoked cheddar and Havarti. Feel free to change up the cheese slices and you can half the recipe for a smaller group of people.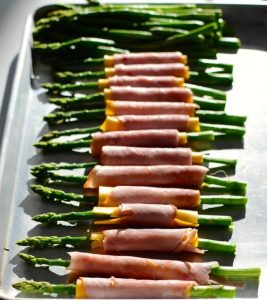 Ham and Cheese Asparagus Rolls
• 40 asparagus spears
• 20 slices Mild Cheddar Cheese 1 package, cut in half
• 20 slices of thin deli ham
• Preheat the oven to 425 degrees F
• In batches, steam the asparagus until bright green and still crisp, about 3-5
minutes. OR lay on a parchment lined baking sheet, spray with a bit of
cooking spray and cook 3-5 minutes until partially cooked. Let cool.
• Top a ham slice with a slice of cheese. Place one asparagus spear on top of
the cheese and roll the ham and cheese around it. Place crease side down on
a large baking sheet. Repeat until all the asparagus are wrapped.
• Bake 5-10 minutes until cheese is melted and asparagus are tender.