Recipe
This is a quick and easy meal loaded with vegetables, lean beef, diced tomatoes and potatoes. It's great made ahead of time, budget friendly, reheats and freezes well. The ultimate comfort food served during the winter with a crusty loaf of bread.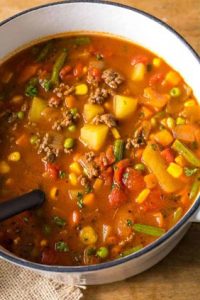 Hamburger Soup
• 1 pound lean ground beef
• 1 onion, diced
• 2 cloves garlic, minced
• 2 medium potatoes, peeled and diced
• 3 ½ cups beef broth
• 28 ounces diced tomatoes with juice
• 1 can condensed tomato soup
• 2 teaspoons Worcestershire sauce
• 1 teaspoon Italian seasoning
• 1 bay leaf
• salt and pepper to taste
• 3 cups mixed vegetables, fresh or frozen
Brown onion, ground beef and garlic until no pink remains. Drain any fat. Add potatoes, broth, tomatoes, tomato soup, Worcestershire sauce, seasoning and bay leaves. Simmer covered 10 minutes. Stir in vegetables. Simmer 15-20 minutes or until potatoes are tender.