Recipe
This easy, breakfast casserole is perfect to prepare for a simple holiday morning breakfast, to bring to a neighbour in need, serve at a brunch or if you simply have ham to use up and need a quick, one dish supper. Ripe sweet bell peppers give this dish a delicious vibrant flavor, and the colour they add makes it feel festive. Red is nice for Christmas, but any colour of sweet pepper will do. This recipe is very flexible, you can add cooked breakfast sausage in place of the ham, omit any vegetable that you don't like, and even leave out the garlic if you're not a garlic fan.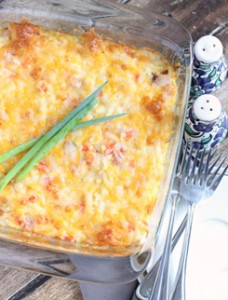 Ham and Potato Breakfast Bake
• 2 cups ham (or cooked sausage), chopped into small pieces
• 4 cups shredded potato or hash browns
• 1 cup sweet bell pepper , diced small
• 1/4 cup sweet yellow onion, minced
• 1/2 cup sliced mushrooms
• 1 clove garlic, minced
• 6 eggs
• 1 tablespoon heavy cream or milk (optional)
• 2 cups finely shredded cheese, divided in half
• 1/4 teaspoon salt
• 1/8 teaspoon black pepper
In a large bowl, combine sweet peppers, onion, garlic, mushrooms, and ham. Mix well. In a smaller bowl, whisk together eggs, heavy cream, salt, and pepper. Add whisked eggs to vegetable bowl and stir. Incorporate potatoes, then 1 cup of shredded cheese. Pour casserole mixture into an 8×8 or 9×9 lightly greased baking dish. Sprinkle remaining cheese over top. Bake at 350 degrees for 30 – 45 minutes, until cooked through and egg is set. If using a broiler safe dish, turn on broiler for 2 – 3 minutes to crisp and brown cheese.