Recipe
Do you love a cheesy, hot crab dip? Well this is the recipe for you and a perfect dip for your New Year's celebration. Crispy, homemade wonton chips make this dip extra special but if you prefer simplicity, a freshly sliced baguette works just as nice.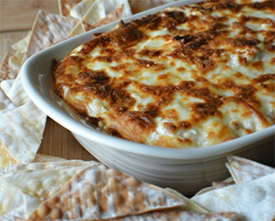 Hot Crab Dip With Wonton Chips
For The Dip
• 8 oz cream cheese, softened
• 1/2 cup mayonnaise
• 1/4 cup sour cream
• 1 tbsp lemon juice
• 1 tsp Worcestershire sauce
• 1/4 cup shredded Parmesan cheese
• 2 cans (6 oz) crab meat, drained, or the equivalent of
imitation crab meat
• 1 cup shredded mozzarella cheese, divided
• 1 clove garlic, minced
• ½ tsp freshly ground black pepper
For The Wonton Chips
• 1 package wonton wrappers
• cooking spray
Cut the wonton wrappers in half diagonally, and then cut again so you have 4 triangles from each wrapper. Spray with cooking spray and spread chips on a pan. Bake at 350 degrees 7-8 minutes or until brown and crispy, set aside.
Combine all dip ingredients in a casserole dish reserving ½ cup mozzarella cheese for topping. Top with remaining cheese. Bake, again at 350 degrees, for 25 minutes or until hot and bubbly. Serve with the Wonton chips.