Recipe
To start off your New Year's resolutions, enjoy this guilt free soup that my daughter loves. There isn't any cream, sugar, or any unnecessary additives in this recipe yet it's delicious and creamy. Plus, there's a secret ingredient in this soup that makes it so good; basil pesto. There is also a secret method; low and slow. Massage the tomatoes, carrots, onions and garlic with some olive oil and a good sprinkle of salt and pepper and pop them in the oven on low for 1 hour. The slow baking process helps develop more flavour in the tomatoes and causes the sweetness to come out, thus eliminating the sugar. The parmesan also adds just the right amount of cheesiness to the soup without overpowering it.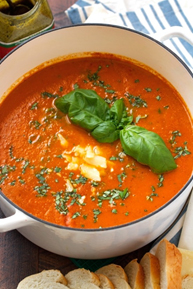 Secret Ingredient Tomato Basil Soup
• 1 lb. cherry tomatoes
• 2 lbs. Roma tomatoes cut in half
• 1 medium onion, cut into chunks
• 7 garlic cloves
• 3 large carrots, cut in half
• ⅓ cup olive oil
• salt and pepper
• 4 cups vegetables broth
(or chicken broth)
• 2 tablespoons balsamic vinegar
• ½ teaspoon red pepper flakes
• 2-3 tablespoons basil pesto
Position a rack in the centre of the oven and preheat the oven to 375ºF. Place the cherry tomatoes, Roma tomatoes, onions, garlic, and carrots on one large baking sheet. It's okay if some of the ingredients are overlapping. Drizzle the olive oil along with a big pinch of salt and pepper and give it a good toss. Place the baking tray in the oven and allow the ingredients to bake for 1 hour. Check on the ingredients every 30 minutes and give it a toss.
Transfer the ingredients along with any juices from the baking tray to a blender and blend the veggies until they are completely smooth. If you are having trouble blending, you may need to add a little broth to help it along. For super smooth soup, run the puree through a strainer to get rid of any larger pieces.
Transfer the puree into a large dutch oven over medium heat. Add the chicken broth and allow the soup to heat all the way through, about 5-7 minutes. Add the balsamic vinegar, red pepper flakes. Add two tablespoons of the pesto and give the soup a taste. If desired, add the third tablespoon. Season with salt and pepper to taste.