Recipe
My mom made this delicious, no-bake, square yesterday and I decided it would be a great recipe for my column this week. It's perfect for those hot, summer days when you need to make a dessert but don't want to have the oven on.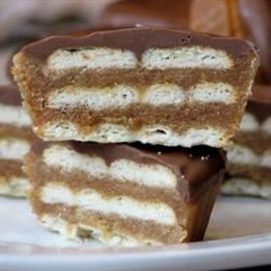 Kitty Kat Bars
• 80 buttery round crackers (Ritz or other)
• 1 1/2 cups graham cracker crumbs
• 3/4 cup packed brown sugar
• 1 cup white sugar
• 3/4 cup butter
• 1/3 cup milk
• 2 cups semisweet or milk chocolate chips
• 3/4 cup peanut butter
Put a layer of buttery round crackers in a 9 x 13 inch non-stick or greased pan.
Put graham cracker crumbs, brown sugar, white sugar, butter and milk into a saucepan and bring it to a boil. Boil for 5 minutes.
Pour 1/2 of the graham cracker crumb mixture over the crackers. Put another layer of crackers, and pour the remaining mixture over. Add a last row of crackers. Press down gently as you assemble.
To make topping: Melt chocolate chips and peanut butter over low heat . Once melted, spread evenly over the top. Refrigerate until set. Cut into desired bars or squares.