Recipe
As some of you may know by now, my daughter is a vegetarian, so I'm always looking for recipes to make when she comes over. I found this one and thought it was the perfect summer dish to try out on the barbecue. It was delicious and pleased all vegetarians and meat-eaters alike!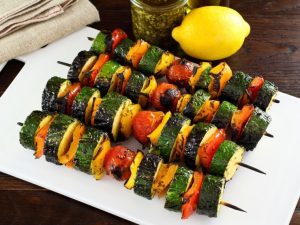 Lemon Pesto Vegetable Skewers
Ingredients:
– 2 lbs zucchini and/or yellow squash, cut into 1-inch slices
– 1 large yellow pepper, cut into 1-inch chunks
– 1 large red pepper, cut into 1-inch chunks
– 1 large orange pepper, cut into 1-inch chunks
– 10-12 large cherry tomatoes
– 1/3 cup pesto (homemade or store bought)
– 2 tbsp olive oil
– 2 tbsp fresh lemon juice
– 1 ½ tsp lemon zest
– Salt to taste
Instructions:
In very large bowl, combine pesto, olive oil, lemon juice, and lemon zest. Whisk until combined and add salt to taste. Throw in vegetable chunks and tomatoes, toss with large spoon until all veggies are evenly coated. Cover bowl, place in refrigerator, and allow the vegetables to marinate for a minimum of 2 hours. Preheat your grill to medium heat and stack your vegetables on skewers. Grill the skewers for about 20-25 minutes, giving them a slight turn every 5 minutes, until the largest pieces of zucchini are tender and the skewers lightly charred. Serve warm!