Recipe
Do you need to add a little more spice to your side dishes? This recipe will do that, but not to the extreme. I can't eat anything that's too hot and spicy and this dish is just perfect for me. You can adapt this recipe if you like more heat, by adding extra cayenne pepper. You can also make this dish more hearty by adding a can of rinsed black beans and if you like a little more Mexican flavour, you can add a 127ml can of chopped green chillies (found in the Mexican section of the grocery store).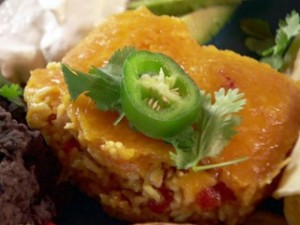 Mexican Rice Casserole – Serves 12 (can be halved)
• 2 tablespoons canola oil
• 3 cloves garlic, minced
• 1/2 to 1 whole large onion, chopped
• 4 cups long grain rice (not instant)
• 28 oz can of whole tomatoes
• 540 ml Aylmer Accents Chili diced stewed tomatoes
• 1 teaspoon cumin (or more to taste)
• 1 teaspoon kosher salt
• 1 teaspoon ground black pepper
• 1/2 teaspoon cayenne pepper
• 1/4 teaspoon turmeric
• 6 to 7 cups low-sodium chicken broth (more if needed)
• 1 1/2 cups grated Cheddar cheese
• Optional- black beans, green chilies
• Fresh cilantro for serving
Preheat the oven to 375 degrees F. Heat the oil in a large, oven safe, dutch oven and add the garlic and onions. Cook, 3 to 4 minutes. Reduce the heat to low and add the rice. Stir constantly, making sure the rice doesn't burn. Cook over low heat, about 3 minutes. Next, add the whole tomatoes, diced tomatoes, cumin, salt, pepper, cayenne and turmeric. Stir to combine and let cook, about 2 minutes. Finally, add the chicken broth and stir the mixture together. Bring the mixture to a boil, and then reduce heat to low. Cover, and simmer until the rice is not quite done, 10 to 15 minutes. Top with the cheese, and then bake with the lid off until the cheese is melted and the rice fully cooked, about 15 minutes. Serve with chopped cilantro
• If you don't have an oven safe dutch oven, the first part of this recipe can be made in a large frying pan or pot and transferred over to a casserole dish for the final baking.