Recipe
Thanksgiving is this coming weekend. I hope everyone is able to come together with family and friends and celebrate all that they are thankful for. The following recipe is an easy, simple, yet delicious stuffing recipe that everyone will love. It's baked in a casserole dish but some of it can also be used to stuff a turkey.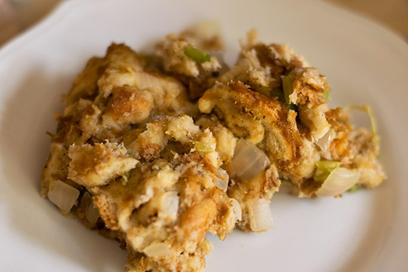 Thanksgiving Stuffing
• 3 loaves of sliced sandwich bread (torn into pieces)
• 6 celery ribs (chopped)
• 1 yellow onion (diced)
• 1 3/4 tsp poultry seasoning
• 32 oz of chicken broth
• 1 cup of butter
• salt and pepper
Melt butter in a skillet over medium heat. Add celery and sauté until soft about 8-10 min. Add onion to the skillet and cook until translucent and season with salt and pepper. Remove from heat. Preheat oven to 350 degrees. Place torn bread pieces on a baking sheet and bake for about 10 min or until bread is toasted. Use two baking sheets if needed. Place bread pieces into a large bowl. Pour celery, onion, and butter mixture over the bread. Sprinkle the poultry seasoning evenly over the bread. Season with salt and pepper. Slowly add in the chicken broth while you mix everything together with your hand. Make sure there are no dry pieces of bread, everything should be moist. Transfer bread mixture to a casserole dish and cover with foil and bake at 350 for 35-40 min.