Recipe
I found this recipe in my Grandma's recipe box and it brought back fond memories of eating this deliciously sweet but tangy, creamy dessert. Of course anything with cream cheese and whipped topping in it is a winner in my eyes. This is better if it sits in the fridge overnight, so it's a perfect dessert to make ahead for special occasions or dinner guests.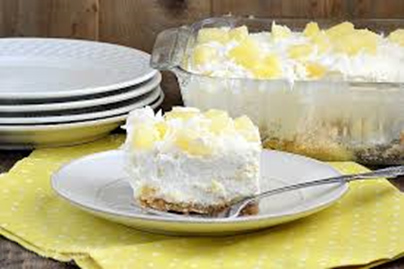 NO-BAKE PINEAPPLE CREAM DESSERT
Filling:
• 8 oz softened cream cheese
• 1 tub (8 oz) whipped topping
• 1 large can (14-16 oz) crushed pineapple, drained
• ¾ cup confectioner's sugar
• ½ cup pineapple chunks
• ½ cup shredded coconut for topping.
Crust:
• 1½ cups graham cracker crumbs
• ⅓ cup sugar
• ½ cup butter, melted
For crust: Mix the graham cracker crumbs and sugar. Add the melted butter and stir to combine well. Press into a 8 x 8- or 9 x 9-inch pan.
Filling: In a large bowl, beat the softened cream cheese and confectioner's sugar until very smooth. Beat in the tub of whipped topping. Then fold in the drained crushed pineapple. Spread filling on top of crust. Top with pineapple chunks and sprinkle with coconut. Chill very well—at least 4 hours, preferably overnight.