Recipe
I find as I'm getting older I appreciate a delicious, dense and flavourful coffee cake more than I ever did before. Apparently chocolate cake isn't the be- all, and end- all, after all. Whether you eat it in the morning with coffee, or in the afternoon with hot tea, it's always so good, especially during the cold and snowy weather. Many people think the name means there is coffee in the ingredients but this is not the case, it just means it's a cake best served with coffee. I personally think this would be a great cake to make for your co-workers to have with their morning coffee (hint, hint favourite office baker). Fresh or frozen berries can be used and other berries can be substituted for the raspberries.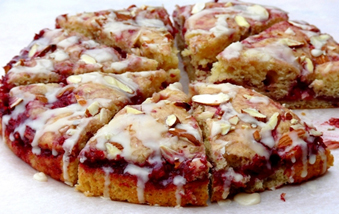 RASPBERRY ALMOND COFFEE CAKE
CAKE:
• 1 cup fresh or frozen raspberries, thawed
• 3 tablespoons brown sugar
• 1 cup all-purpose flour
• 1/3 cup sugar
• 1/2 teaspoon baking powder
• 1/4 teaspoon baking soda
• 1/8 teaspoon salt
• 1 large egg
• 1/2 cup sour cream
• 3 tablespoons butter, melted
• 1 teaspoon vanilla extract (or almond)
• 1/4 cup sliced almonds
ICING:
• 1/4 cup confectioners' sugar
• 1-1/2 teaspoons whole milk
• 1/4 teaspoon vanilla extract
In a bowl, combine raspberries and brown sugar; set aside. In a large bowl, combine the flour, sugar, baking powder, baking soda and salt. In a small bowl, whisk the egg, sour cream, butter and vanilla. Stir into dry ingredients just until moistened. Batter will be dense. Spoon half the batter into a greased and floured 8" round baking pan. (Make sure to completely cover the bottom of pan, it will seem like there is not enough batter but there is. (Using a small off-set spatula to spread it around evenly helps.) Top with raspberry mixture. Spoon the remaining batter over raspberries. (Again, it will seem like there is not enough batter. Just swirl it around gently, you don't have to completely cover all of the raspberries.) Sprinkle with almonds. Bake at 350 degrees F for 20-25 minutes or until a toothpick inserted near the center comes out clean. Cool on a wire rack for 15 minutes before removing from pan. During the cooling time, carefully run a sharp knife around the edges to loosen them. In a small bowl, combine the icing ingredients; drizzle over the coffee cake and serve.