Recipe
Cauliflower steaks are oven roasted with simple seasonings like salt, pepper, garlic powder, and paprika. They are a great meat alternative or a delicious side dish. I made these on the weekend as a side dish and roasting the cauliflower brought out a delicious sweet, nutty flavour.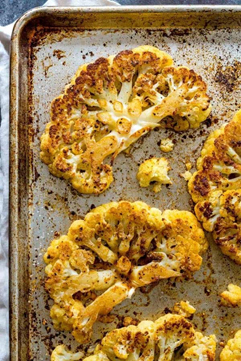 Roasted Cauliflower Steaks
• 2 heads cauliflower
(about 2 pounds (908g) each)
• 1 teaspoon kosher salt
• 1/2 teaspoon black pepper
• 1/2 teaspoon garlic powder
• 1/2 teaspoon paprika
• 1/4 cup olive oil (60ml)
• 1 teaspoon chopped parsley
Adjust oven rack to the lower third position. Preheat oven to 450 degrees. Remove the outer green leaves from the head of cauliflower and trim the stem. Using a large knife cut the cauliflower in half lengthwise through the center. Cut a 1 1/2-inch thick steak from each half of the cauliflower. If the head is large, carefully cut one more steak from each of the cut sides. Repeat process with the other head of cauliflower. Any florets that come off of the steak can also be roasted. There should be about 4 to 8 steaks in total. Place cauliflower steaks on a rimmed baking sheet. In a small bowl mix together salt, pepper, garlic powder, and paprika. Drizzle olive oil on both sides of each cauliflower steak. Evenly sprinkle the seasoning mixture on both sides of the cauliflower steaks, about ¼ teaspoon per side. Tightly cover the baking sheet with foil and bake for 5 minutes. Remove the foil from the cauliflower and roast for 10 minutes. Gently flip the cauliflower steak and roast until a golden brown crust forms on both sides, about 6 to 8 minutes.