Recipe
Baked tomatoes are a simple yet incredibly delicious side dish or appetizer for any occasion. We, including myself, forget that tomatoes can be cooked and served as a vegetable. Roasting tomatoes really brings out their sweetness and makes them extra juicy. The classic Italian combination of tomato, cheese, and basil is irresistible.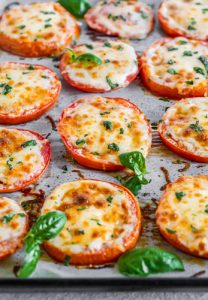 Baked Mozzarella and Parmesan Tomatoes
• 4 roma tomatoes sliced
• 1 cup shredded mozzarella cheese
• 1 cup shredded parmesan cheese
• 1/2 cup fresh basil chopped
• olive oil
Preheat oven to 400F. Place tomato slices on a parchment lined baking sheet. Top each tomato with a layer of parmesan and then a layer of mozzarella. Sprinkle the chopped basil on top of each tomato. Drizzle lightly with olive oil. Bake for 8-10 minutes or until cheese is melted and bubbly. Turn off oven and broil for 2-3 minutes to brown the cheese.