Recipe
Every second week the staff at Around & About/ Paperworks has a theme day to raise money that will be donated to a charity at the end of the year. A couple weeks ago our theme was Mexican culture. Our favourite office baker brought in a Mexican inspired dessert that we were all drooling over. A Sopapilla (so·pai·pil·la ) is traditionally a deep-fried pastry, typically square, eaten with honey or sugar. The following recipe is a no frying, no fuss version, with a cinnamon sugar coating and a cheesecake layer inside. It's an easy dessert to put together that will impress everyone who tries it. These are great served with whipped cream and sliced strawberries.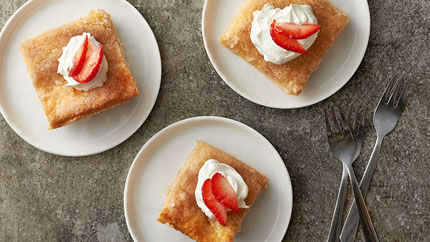 Sopapilla Cheesecake Bars
• 2 (8 ounce) cans Pillsbury refrigerated butter
flake crescent dinner rolls
• 2 (8 ounce) packages of cream cheese, at room temperature
• 1 ½ cups white sugar, divided
• 1 teaspoon vanilla extract
• 1 teaspoon cinnamon
• ¼ cup butter, melted
Preheat oven to 350°F. Spray a 9×13-inch baking dish with cooking spray. Unroll one can of crescent rolls and press it into the bottom of your baking dish, pressing seams together to seal perforations. In a small bowl, blend the cream cheese, 1 cup of sugar and the vanilla. Spread evenly over the top of the crescent dough. Unroll your second can of crescent rolls onto a sheet of plastic wrap or parchment paper, pressing seams together to seal. Transfer dough to your baking dish, placing it on top of the cream cheese mixture. Pour the melted butter on top of the crescent dough. In a small bowl, combine the remaining 1/2 cup of sugar and cinnamon. Sprinkle evenly over the melted butter. Bake for 25-30 minutes until top is bubbly and bottom crust is slightly browned. Allow to cool completely and store in refrigerator. When ready to serve, cut into 12 pieces and top with whipped cream and strawberries if desired.