Recipe
During the summer I was given this recipe by one of our readers, who is also a friend of the family. She told me it's delicious and would be a great recipe for my column. It's a wonderful combination of tender shrimp and creamy beans tossed in a fresh salad with a lemony vinaigrette.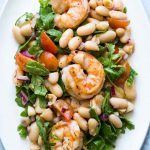 Shrimp, Celery and White Bean Salad
• 2 lb large peeled shrimp, not cooked
• 2 garlic cloves, finely chopped
• Salt and Pepper
• 5 tbsp extra-virgin olive oil, divided
• 1 (19oz) can white beans such as cannellini, rinsed and drained
• 3 celery ribs, thinly sliced diagonally
• 3 cups packed baby arugula or baby spinach
• 2 tbsp fresh lemon juice
• Parmesan cheese
Toss shrimp with the garlic, 1 tbsp oil, 1/2 tsp salt and 1/4 tsp pepper. Heat 2 tbsp of oil in a skillet over high heat and sauté shrimp, stirring occasionally, until cooked through, about 3 minutes. Meanwhile toss together the beans, celery, arugula, lemon juice, 1/4 tsp salt, 1/4 tsp pepper, and remaining 2tbsp of oil in a bowl. Add the shrimp with any juices and toss. Top with parmesan cheese.