Recipe
'Tis the season to entertain and if you are like me, you have your regular favourite appetizers and dips that you like to serve. I think Nacho dip is a common dip found at most parties and the following recipe is similar but is made using seafood sauce and shrimp. Be sure to inform your guests that it contains shrimp in case someone has a seafood allergy.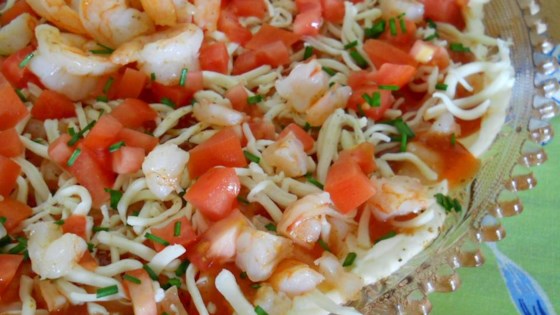 Shrimp Platter
• 8 oz pkg cream cheese
• ½ cup sour cream
• ¼ cup mayonnaise
• 1 cup seafood sauce
• ½ green pepper
• ½ red pepper
• 4 green onions
• Sliced olives (green or black)
• 1 large tomato
• 1 can shrimp
• 1 cup shredded mozzarella cheese
Place this on a dish or platter that you will serve it on. Mix cream cheese, sour cream and mayonnaise together and spread thinly over the bottom of the dish. Spread on seafood sauce. Finely chop vegetables, except the tomato. Sprinkle these and the olives, over the sauce. Rinse shrimp under cold water. Drain well. Dice the tomato. Do not add the tomato or shrimp until serving time. At serving time, scatter the shrimp and tomato across the top and sprinkle with the mozzarella cheese. Serve with nacho chips or crackers.