Recipe
Making bread or dinner rolls can be a scary thought for many people, I'm one of those people. BUT I found this recipe online and have made it three times with amazing results. It is much easier and foolproof if you have a stand mixer, but this recipe can be made the old fashioned way using a wooden spoon and then kneading. These are perfectly soft, homemade dinner rolls that will look impressive on your Easter table. Don't be afraid to try it.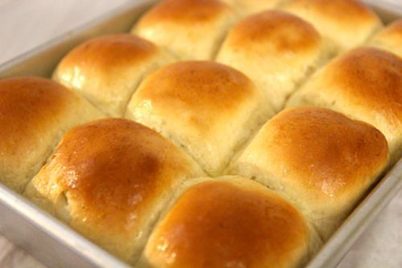 Simple Delicious Homemade Dinner Rolls
Yield: 24 rolls
• 2 cups warm milk
( warm in the microwave until luke warm)
• 2 tablespoons instant dry yeast
• ¼ cup white granulated sugar
• 2 teaspoons salt
• 6 tablespoons salted butter, softened
• 2 large eggs
• 6 cups all-purpose flour
• 1 tablespoon melted butter
In the bowl of a stand mixer, combine warm milk, yeast, sugar, salt, butter, and eggs. Add in 5½ cups of flour. Using a dough hook, turn the mixer on to a low speed. Once the flour starts to incorporate into the dough, increase the speed to a medium. Slowly add the remaining ½ cup of flour until the dough pulls away from the sides of the bowl. The dough mixture should be slightly sticky and soft. Add more or less flour until the dough reaches the desired consistency. The amount of flour you add in bread making is always an approximation and you should go by feel. Transfer the dough to a lightly greased mixing bowl. Cover with parchment paper and then a towel and let rise 90 minutes in a warm spot. Lightly grease a baking sheet. Punch down the dough and form into 24 rolls. Place on the greased baking sheet in six rows of four. Cover again, and let rise 1 hour. Preheat oven to 375 degrees. Bake the rolls for 12 to 14 minutes, until lightly browned. Remove rolls from oven and brush with melted butter. Serve the rolls warm, or to cool, let rest on the pan for 15 minutes before transferring to a wire cooling rack. Once cooled completely, store in a plastic bag.