Recipe
I'll admit I was skeptical. I've been making the same meatloaf recipes for years, but the reviews on this recipe were great and I was looking for something easy to make for supper. I'm here to tell you, I was pleasantly surprised. The seasoning in the dressing mix adds a delicious flavour and the breadcrumbs add just the right moisture. This recipe is definitely a keeper.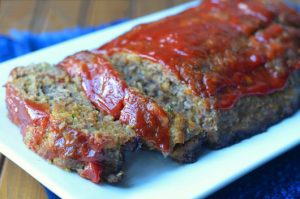 Stove Top Meatloaf
• 1 box of Stove Top Stuffing (any flavour)
• 1 pound of ground beef
• 2 eggs
• ½ cup of ketchup, or more according
to your taste. divided
• ½ cup of water OR ¼ cup milk and ¼ cup water
(which I prefer)
Preheat oven to 350 degrees and grease a medium casserole dish or a loaf pan. In a bowl, mix together the stuffing mix, ground beef, eggs, ¼ cup of ketchup (save the rest to brush on the top) and water. Shape mixture into a loaf. Spread loaf with remaining ketchup. You can also use barbecue sauce or a mixture of both. Bake for 45- 60 minutes depending on your oven. Remove from oven. Drain off the fat. Let sit for a couple minutes, slice and serve.