Recipe
This recipe comes from a customer and loyal reader of my recipe columns. Other recipes she has shared with me have been winners, so there's no doubt that the following will be delicious. With strawberries in season, this is the perfect time to try these muffins and that's my plan this weekend.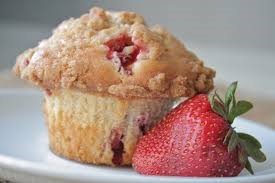 Strawberry Butter Streusel Muffins
• 2 cups all-purpose flour
• ¾ cup of sugar
• 2 tsps baking powder
• ½ tsp salt
• 1 cup milk
• 2 eggs
• ½ cup butter, melted
• 1 tsp vanilla
• 1 cup fresh strawberries, diced
For Streusel
• ¼ cup flour
• ½ cup sugar
• 2 tbsps butter, softened
Preheat oven to 350 degrees. Make your streusel first. In a food processor, or with a pastry blender combine all ingredients until crumbly. Set aside. For the muffins, combine the flour, sugar, baking powder and salt in a large mixing bowl. In a medium bowl, beat eggs, then add milk and beat again. While beating, add butter and vanilla. Pour wet ingredients into your flour mixture and mix with a fork just until combined. Spoon a tablespoon of batter into paper lined muffin tin, add a few strawberry pieces then another tbsp of batter, being sure to only fill cups about 2/3 full. Top with 4-5 more strawberry pieces. Top with about 2 tsps of streusel mixture. Bake in oven for 25-30 minutes, or until a toothpick inserted in center comes out clean. Let muffins rest for 10 minutes before removing to racks to cool completely.