Recipe
I'm not going to lie; I love when I'm given a recipe by someone who has made it, and highly recommends it. It makes this job a whole lot easier. I often try new recipes, hoping it will be a winner that I can put it in my column. Unfortunately, the last few recipes that I have tried haven't made the cut. My friend texted me the other day and said, "I have a great muffin recipe for you, they are delicious!" SOLD! Send it on over. Essentially, it's strawberry shortcake in a muffin form. The batter will be thick and sticky, so gently fold the strawberries in. Pockets of juicy strawberries, in a buttery, shortcake style muffin; sounds good to me!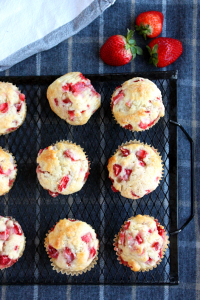 Strawberry Shortcake Muffins (yield 12 muffins)
• 2 cups all-purpose flour
• ½ tsp salt
• 3 tsp baking powder
• ½ cup cold butter, do not substitute with margarine
• ½ cup white sugar, plus extra to sprinkle on top
• 1 cup milk
• 2 cups of chopped strawberries, 1/8-inch bits
In a large mixing bowl, sift or whisk flour, salt and baking powder. Cut butter into small pieces and mix into flour with a pastry cutter, two knives or use your hands until mixture is crumbly. Stir in sugar. Add milk and stir until just combined. Gently fold in chopped strawberries. Don't over mix the berries, or they will bleed into the batter. Scoop (approximately ¼ cup) into well greased or lined muffin tins, sprinkle tops with a pinch of sugar. Bake at 400 degrees for 20 minutes. The tops will be slightly golden, and a toothpick inserted into the middle should come out clean.